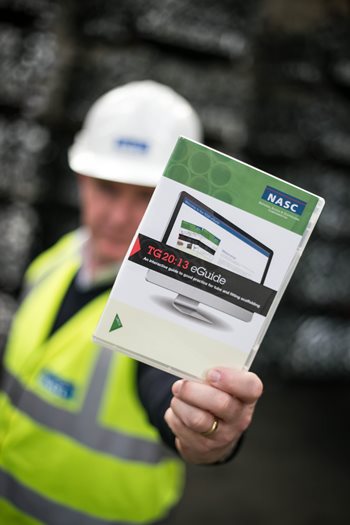 NASC launches TG20:13 Supplement 1 and eGuide Software Update
The NASC has updated its TG20:13 good practice guidance for tube and fitting scaffolding with a new document entitled Supplement 1. This document is available now for download from the NASC website as a PDF and is accompanied by an eGuide software update entitled Version 1.1.
The software update is available to existing TG20:13 users as a download from the NASC website for Windows, Mac and Android devices. For further information and to download TG20 Supplement 1 PDF and the free Version 1.1 TG20:13 eGuide update, please visit the NASC website here.
Principal features of the update are as follows:
A specification for TG20:13 compliant 3.2mm wall thickness cold-formed high tensile steel tubes to BS EN 10219-1;
An amendment to the sign off section of compliance sheets to state that illustrations are indicative;
Clarification regarding ties to the inner face of the scaffold only;
Compliance sheets for sheeted scaffolds with transom units;
Compliance sheets for scaffolds of 2.0m, 3.0m or 4.0m height;
Clarification regarding the horizontal spacing of ties for scaffolds with a maximum bay length less than 2.0m.
Terry Roberts of CADS (technical authors of TG20:13) said: "The NASC recommends that compliance sheets from the new eGuide are always used. However, the update has been designed in such a way that compliance sheets from the original eGuide (and from the TG20:13 Operational Guide) remain valid, so there is no need to differentiate between new and original compliance sheets on site."
Robin James, NASC Managing Director added: "These updates to TG20:13 demonstrate the commitment of the NASC to the continual improvement of TG20:13 to meet the demands of the UK scaffolding industry. The NASC advises that all existing users of TG20:13 should download this new version of the TG20:13 eGuide together with the accompanying document Supplement 1."
For details about becoming an NASC member and to find out more about TG20:13 and the NASC – the scaffold industry guidance trade body organisation – please visit www.nasc.org.uk or email: enquiries@nasc.org.uk. And to obtain a copy of TG20:13, please visit www.nasc.org.uk/tg20_13.